The House
What makes South West France so charming for a vacation?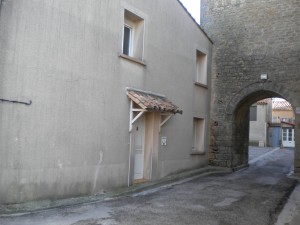 This three bedroom French holiday cottage (known as a gite in France) or vacation rental in Languedoc-Roussillon, South West France is set in the beautiful Aude River Valley and is part of an original Castle in Villemoustaussou dating back approx. 600 years It now has all modern conveniences and a fully equipped kitchen for self-catering. The cottage 10 minutes drive from Carcassone, could not have better access to many sites in the Languedoc-Roussillon South West France region.
Such a variety of things to do
Average of 2,000 hours of sunshine per year
Populated with friendly people
Available all year round
Food of SW France – foie gras, truffles, cassoulet, duck dishes, Roquefort cheese, olive oil
Perched medieval Cathar villages
Renaissance towns
The Canal du Midi in the region
The Cevenne hills bordering the northern side of Languedoc Roussillon are host to the Gorges du Tarn and the Parc National des Cevennes a walker's paradise.
Vide greniers – ( literally) sales of emptied attics
Art exhibitions
Concerts
Timeless French villages steeped in history
Vineyards and fine wines.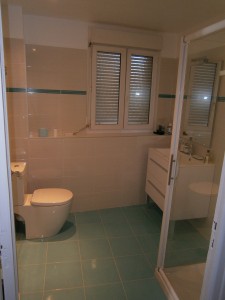 Bathroom
Why choose our French holiday cottage?
Situated in a genuine French village with commerce and restaurants
The village of Villemoustaussou is superbly positioned in the region as a whole with easy access to neighbouring departments and Carcassonne
Quality space and comfort expected by overseas travellers
Very reasonably priced – can be more cost effective than accommodation in Australia and New Zealand, for example
Internet available by negotiation
All linen and towels inclusive (no extra charges)
Hairdryer, iron, full length mirror
Quiet but accessible position
For up to 6 people (rates for a couple only also)
Very comfortable for a winter or off season let also (note special low off season/ winter rates)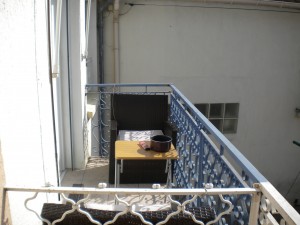 From this vacation rental not only will you enjoy the calm of village accommodation set in the country in South West France , near Carcassonne, where you can unwind, but you will have all the life of a thriving French village close at hand.
When is the best time to visit?? That depends on when you can come and what you want to do!!! During the summer why not enjoy the summer activities such as antique markets (brocantes), 'vide greniers', art exhibitions, concerts and festivals and fetes of varying sorts in ours or surrounding villages that this region of France has to offer?
There are three bedrooms in the holiday cottage; two with a queen size bed and the other has a single ideal for up to 5 adults (or we have a tariff for one couple only).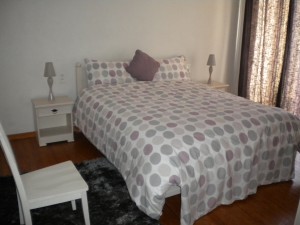 The dining area inside the gite has a table that seats 6 while the lounge area is furnished with a three seat and a two seat couch. We feel it is very important to have somewhere comfortable to sit when you need to relax after a day's sightseeing or to simply spend a day relaxing. The gite bathroom has a shower over the hot tub and two wash basins. One bedroom has doors opening onto a balcony that overlooks the Place de la Chateau. In the laundry of the gite there is a washing machine and dryer for use by guests.
In the lounge room of the gite French television and a DVD player are available. The surrounding streets are filled with history stretching back to the 13th century and every stroll you take means a discovery of something new and fascinating.
The holiday cottage is situated in Villemoustaussou: a calm but real French village, unlike some in France which are now deserted except for weekend tourists and which also have no shops.
If you want to have a swim, the beautiful beach at Narbonne would be your best target. Relax on the expanse of sand or plunge into to aqua Mediterranean. (Please bring your own swimming towels.)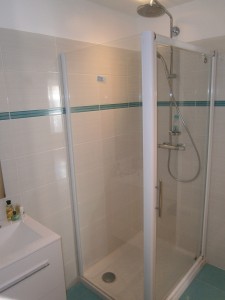 Shower
In the centre of Villemoustaussou, close to the vacation accommodation there is a bar-restaurant, two bakeries, a supermarket, another separate restaurant, pharmacy, newsagent, medical centre, two hairdressers, fruit & vegetable shop, butcher, and library – open all year.
This cottage near Carcassonne is also well suited to a winter let, because it has great heating and insulation and you can be toasty and warm inside. In spring and summer many village gardens have a fabulous display of colourful flowers. The village is an active village and has markets at weekends in the summer months as well as special festivals like the gathering of bands in June that attracts people from all over. Caracassonne and Narbonne are a short drive away.
Come to South West France off season, and still be comfortable in the busy market village of Villemoustaussou an easy 25 minute drive from Beziers.
The cottage is uniquely placed, in South West France, allowing easy access to Carcassonne, and to the other nearby departments such as Pyrennes Orientales or Herault.  Narbonne,  Montpelier and Toulouse, are all within an easy drive.
There are various ways to arrive at your holiday accommodation in South West France, besides by car. There is a regional airport just 10 klms away at Carcassonne where Ryan Air services the UK, and Ireland regularly, and an International Airport just over an hour's drive away at Toulouse. There are cheap flights to and from there to the UK or Paris with Easyjet. You can also arrive by train to Carcassonne station, just minutes away.
Explore further afield. It is just over an hour's drive to the Spanish border (the Pyrenees mountains) and about 3 hours to Barcelona. Florence is not that far away and nor is Switzerland. The medieval town of Mirapoix is 35 minutes away, seemingly untouched from so long ago. Villemoustaussou is a good base for the whole of this southern part of Europe.


Click calender for availability

The Australian owner of this French cottage lives in Newcastle. The vacation home is available to rent all year round including winter. Look on the tariffs page for the availability button for this cottage in near Carcassonne.