Prices
Prices and Booking Conditions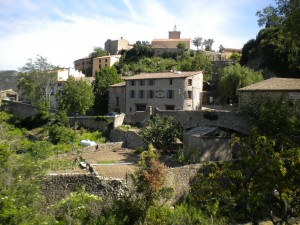 Prices (per week) for 2016-17
Any 2 weeks booked within a month of arrival will attract a 10% discount.
All year weekly rate (including use of one double bedroom)

All year weekly rate (including use of two double bedrooms)

+ Heating surcharge, November-April – enquire

AUD$600

AUD$750

add extra single room for affordable rate – enquire
To make a booking for the Cottage in France:
The AUD$600 rate is for one QS bedroom (1-2 people). For an extra QS bedroom booked add 25% of the base rate. Add 15% for the extra single bedroom. (If the cottage is booked for two people only there will be no other parties booked in).
Rental is usually from 4pm Saturday to 11am Saturday.
Check the availability calendar.
After you have made contact with us (

enquiries@spotinfrance.com

) and confirmed availability and method of payment for your preferred time period for the French vacation rental, please print out a booking form, fill it out, sign it, scan it and email it. If you think you may have difficulty doing that please let us know and we may be able to organise a short cut method by direct negotiation.
After we have accepted your booking we will let you know how to pay the booking deposit of 25% of the cost of the booking, in order to confirm the booking. This payment will be credited towards your full payment and is separate from the security deposit.
On the booking form, please remember to fill out the number of people and their bedding requirements, so that our manager knows how many beds to make up.
There are two bedrooms with queen size beds and one bedroom with a single bed. (It may be possible to arrange for a folding bed in certain circumstances for a small charge).
French Holiday Cottage Rental Conditions
Tax de sejour is payable in S W France and has been included in the gite tariff. Bookings are not accepted for the cottage /gite without a completed signed booking form or an agreed other method.
Australian dollar prices are used. Contact us to confirm conversion rates.
An additional refundable security deposit of AUD$100 is also required at the time of final payment. For bookings of 4 weeks or more, the refundable security deposit is one week's rental.  This security deposit is in case of breakages or excessive cleaning.
One set of linen is included (sheets, pillow cases, duvets, covers),for each bed per booking. (Longer stay guests will be provided with extra linen). One bath towel per guest is provided along with a bath mat and two hand towels. Tea-towels are provided in the kitchen.
Bedrooms are made available according to how many people are included in the booking. (e.g. 1-2 people have one bedroom, two couples will have two bedrooms, 5 people will have 3 bedrooms. but please note the bed configurations.)
The number of people may not exceed the number booked and paid for, and should be confirmed when final payment is made. Failure to advise the correct number of people staying at the cottage, may mean cancellation of booking and loss of all monies paid.
In the period from November to mid April inclusive there is a heating surcharge for the electricity. The average 2013-14 cost for electricity in the winter weeks was 40 Euros pw.
Normal usage of electricity is included in the rental amount from mid April through to October inclusive.
Wireless internet access at the holiday cottage for your device may be available by negotiation.
The property is cleaned before each new arrival but guests are expected to leave the cottage as they find it and also to dispose of their own rubbish in the communal bins provided in the village. If these things are not done, then an excess cleaning charge may be deducted from your security deposit.
Longer stay guests are also able to wash the linen and towels in the washing machine during their stay.
Smoking is not permitted in the house. Dogs are not allowed.
Cancellations and Full Payment for Gite in France
In the event of a cancellation the booking deposit will be refunded if another booking is taken and paid in full for the same period. Transfers of bookings to another party or time may incur an additional fee of up to 25%.
Full payment is due 4 weeks before the holiday start date. In the event of cancellation the cost of the booking is not refundable (except as above). The security deposit is refundable.
If full payment is not made by 4 weeks prior to the holiday start date then we reserve the right to cancel the booking for the rental without notice and retain the booking deposit.
If vacancies are available and bookings are taken less than 4 weeks prior to the holiday start date full payment must be made within 48 hours of booking.
Clients are therefore advised to take out travel/medical insurance at least 5 weeks prior to their booking taking effect, to cover loss of monies due to cancellation of trip, loss of baggage or personal items, and any loss sustained as a result of personal injury arising from a stay at the premises. We cannot accept liability for any third party claim, accident, damage or loss to you or your property or for any expenses incurred for any reason. In any event caused by Force Majeure, neither we, our agent(s), if any, nor any of their employees will be held liable in any way. It is your responsibility to ensure the property is secured at all times during your stay and that all doors and windows are locked/fastened when away from the property.
Special conditions apply to bookings at the cottage in France of 4 weeks or longer, where full payment of the balance owing is to be paid 8 weeks before the holiday start date. One week's rental security deposit is required.
Availability